Sign up to recieve your copy of Basic Lifestyle and Nutrition Guide for Women over 40!
BearPAL Nutrition Testimonials
My outlook on nutrition has profoundly changed since I started working with Courtney. Feeding myself consistently has improved everything – my stamina, my energy, my emotional capacity.
I'm surprised by the amount of food that I can eat now compared to the old program I was on. I believed that losing weight meant major sacrifice, restriction, and this huge amount of willpower.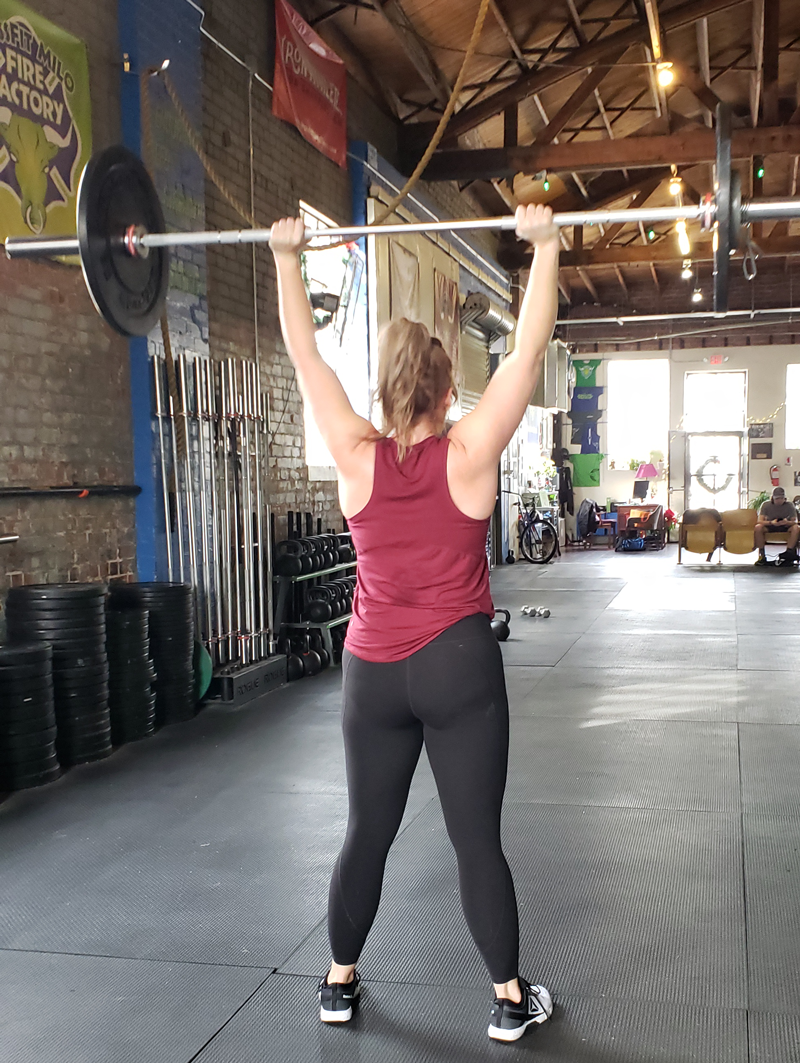 Courtney worked with me not just on the food, but my relationship with food and addressing the emotions around it. With her help and support, I've broken through some expectations that I didn't think I could before. We have crushed a lot of stories and beliefs that I had.
I previously had some unhealthy eating patterns that I didn't even admit to her at first. I had been eating in the middle of the night probably because I was on a restrictive plan for years prior. I was deprived because I was always hungry, so I got up in the night and ate. I consistently ate in the middle of the night more times than I didn't over 15 years. When I started working with Courtney and eating more, it tapered off. I know now, stresses or my body being deprived is what triggers it.
I would recommend this type of coaching because being educated on what actually fuels your body and tracking it can make a difference. Not just in athletic performance but being able to handle all the things that life directs at you – I have increased my capacity in all areas of my life. When I hit a roadblock, we figure it out and move through it.
Since working with Courtney, my outlook on nutrition's role in my life has changed considerably. We are taught to diet, diet, diet, eat less, and less and less. I never thought I could eat 2300 calories a day and feel as good as I do now. My outlook on fad diets and info on social media has changed. Most of that stuff isn't true or didn't work for me.
My initial goals were to get better at Crossfit and get stronger – lose fat, gain muscle, but not with major weight changes. I'm meeting those goals now and I'm still improving.
I've hit some major milestones such as my first kipping pull-up. I'm happy to be consistently eating from day to day. My sleep and energy levels have improved. I don't have that crash mid-afternoon where I'm hangry and I need a snack or feel like I'm going to rip someone's head off!
One thing I got out of coaching that I did not expect was being able to eat more and not constantly have my weight looming over me like, "Oh my gosh, I gained a pound!" I don't want that mentality with my weight. Now I understand I may need to gain because that's part of gaining muscle. Weight is not always a bad thing. No matter what your goal, it's still a good idea to look at what you're eating every day and make sure you're eating enough. Keeping your energy up is important even for people who don't work out a lot.
I have also been able to allow myself to enjoy foods I wouldn't have before. Ice cream sandwiches used to be something that I never ate. That's too much fat, too much sugar! But now I fit them in. And burgers! I love building a burger on MyFitnessPal that is not detrimental to my goals whatsoever because it fits into my numbers and my lifestyle just fine.
Several months ago I met up with one of my best friends in the world. Family to me! I was extremely shocked by how amazing she looked. Absolutely stunning!!! I asked her what she was doing. She explained in detail. Courtney explained her journey that she was on for several years. I was intrigued. She advised that she was now advising people on how she found the key to weight loss. I signed up… I started my journey with Courtney at the helm. Kinda like a second wife… ha ha ha. During my journey, I finally came to an EXTREME conclusion. It works. I was taken off not one but two blood pressure medications. Absolutely amazing!!! My blood pressure has never been better!!! My blood work has never been better!!! That's great but not the best part… Under Courtney's guidance, I have discovered that I can eat and be normal!!!
We as a society have been LIED to on how to lose weight and be healthy. It's a process and it's not going to make sense at first. I can EAT!!! It's amazing that if your macros are in line you can lose weight without starving yourself. This process has been a godsend. If anyone decides to take the journey I have one piece of advice, go through the process even though it does not make sense. The longer you're on the journey it becomes clearer… Thank You, Thank You, Thank You!!!
I started having my first health issues in my 40's…heart palpitations, digestive issues, and eventually severe allergic reactions. It was crazy. After many visits to traditional medical doctors, naturopathic doctors and chiropractors, I finally realized that I needed to take my health into my own hands and the best way to do that was to change the way I was eating.
I discovered the autoimmune paleo diet, an elimination diet that removes inflammatory food, and my body began to heal.  However, I still needed to find a way to balance what I was eating.  I kept reading about the macro approach but didn't think I could follow it.  Luckily, a co-worker told me of his amazing success working with Courtney.  I really needed to work with someone who could give me guidance and keep me accountable.  The first time I spoke to Courtney, I instantly knew I had found the perfect coach!  She is so knowledgeable about nutrition and could easily work with me and my food limitations.  She makes herself available to answer any questions and most importantly helps you just were you are at based on your goal.  Of course, I want to be lean and look good, but much more important is my health and longevity.  I have had great success counting macros with Courtney's guidance. It becomes second nature so quickly and gives you the flexibility you need to make this plan work long term.  She has helped me learn that stress, sleep, and movement are also so important.  I am losing weight and inches now the right way and know that these changes are permanent. I am eating more, do not feel deprived, and have started to add additional foods back into my diet. A great coach helps you based on your needs and that is a priority for Courtney!


BearPAL Nutrition and Menopause Macros Specializes in:
 I'm in my mid-50s and menopausal, so if you are a female, I have been where you are or where you are heading. I know how difficult it can be balancing your physical and health goals with career, family, and other demands. My perspective gives me a unique ability to relate to the gals moving through life's stages. I have struggled with hypothyroidism for the last 11 years. If you have been diagnosed with any autoimmune issue, just know there is hope when things can get complicated in midlife. Proper nutrition, movement, stress reduction, sleep, and functional medicine have changed my life.

I have been a CrossFitter for 12+ years. I have gone through the competitive bug, the burnout, and now I enjoy a more balanced workout schedule. We can work to get you stronger, be a firebreather, or just look better naked. We tailor your activity to what you are ready for and enjoy by working within your physical capabilities and preferences. 

Whether you are concerned with performance, aesthetics or longevity (PAL in BearPAL), we assess where you are and work on the underlying stressors that are holding you back such as diet, rest, sleep, movement, and stress. Macro counting isn't for everyone, so we offer other options.
What sets my coaching apart from others is a template program is the focus on education and communication. We start with your current comfort level and provide educational opportunities tailored to you. We want you to learn from the process. We want you to know why you are doing what you are doing. You will have access through text and email. We will have a periodic review of your progress depending on your coaching level where we look at your food intake, biofeedback, and measurements, and then we discuss any adjustments necessary to help you crush your goals.
This is ultimately your journey, and I am here to help you along the way!
BearPAL Programs
Educational Programs - Nutrition and Lifestyle Basics Course is available on demand and is focused on the functional fitness enthusiast. Check out the free Nutrition Basics & Healthy Habits guide too.
1:1 Coaching Program - Need help figuring out your macros and improving your stress, sleep, mindset and lifestyle. You get the 12-weeks of educational content and Zoom or phone check ins every 7-14 days for deeper dive into your goals and metrics with month-to-month packages.
Health Coaching Packages - here we use functional labs and targeted coaching calls to to stop guessing and restore the balance your body craves with personalized tools to help you age strong, healthy, and gracefully. Packages vary from 3 to 6 months.

Apply

here for any of the packages or programs